Anyone who follows my Artstation page may have noticed that there has been very little recent activity or updates lately. This is due to a major project I have started work on that is going to be taking up most of my time for the foreseeable future. In an effort to stay active and provide insight into my work flow, I have decided to document my on going progress and ideas on this journey.

The working title for the series of work I am developing is 'Human Emotions'.  I plan to let this title sit for as long as it doesn't feel weird or until I can think of anything better and more appropriate for the project- feel free to suggest something in the comments if you have time.

My aim with the project is to create a series of environments, assets and materials that I can be recognized for and set a standard of quality in my work. It is an evolution of my original V Ray work here; Previous Blog Post  In my previous post I wanted to work on something themed around robots, I planned to use the robot to tell the story and the basis or signature for future environments.

Story:  A robot in an abandoned world interacting with every day human themes or finding itself stumped by human emotions.  

Aims of the project: 
Create a tutorial series that would cover themes of environment creation that aren't commonly covered in tutorials.
Continued series of environment, assets and materials for portfolio
Cinematic mood and atmosphere 
Excellent rendering
A key focus on telling a story 
Great composition  with no question of subject matter
Here are some images of the first blockouts where I was initially trying out ideas. The assets are blockouts modeled in Max with the scenes created in Marmoset. Marmoset is a great tool for quickly iterating and visualizing ideas and I had a lot of fun throwing around simple meshes and lighting.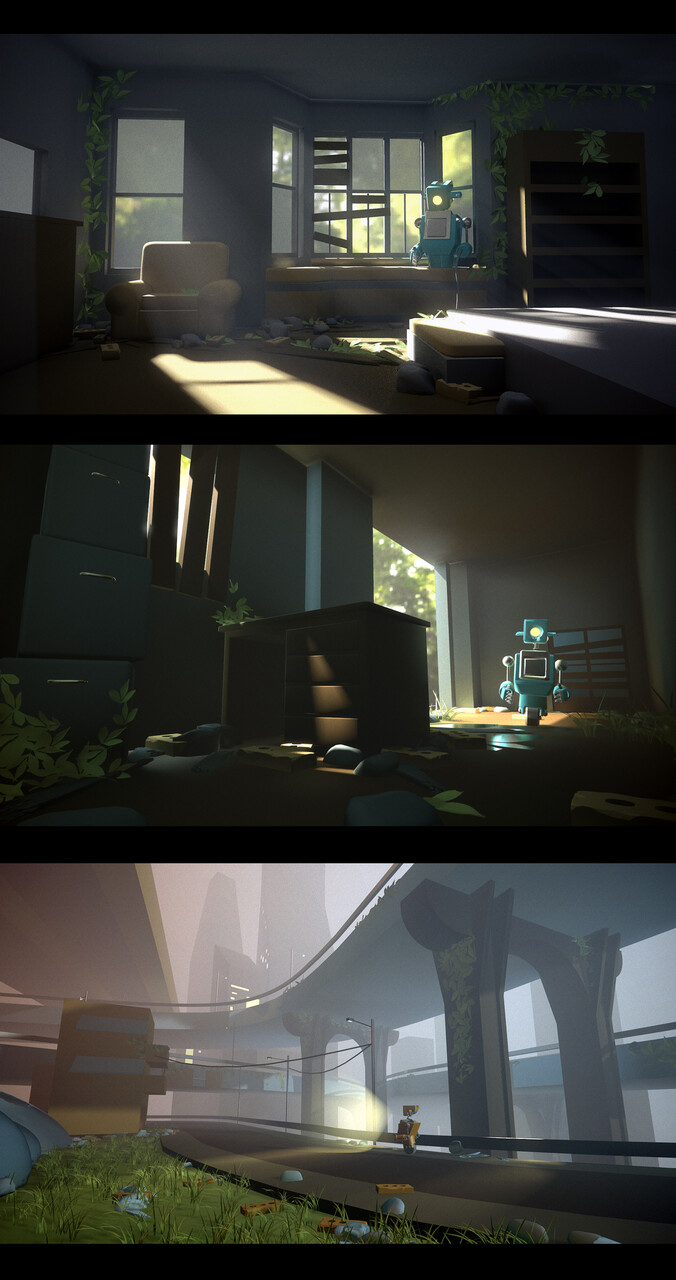 Here is my initial ref board for the project at this stage. I was also leaning more heavily towards vegetation to serve the tutorial.